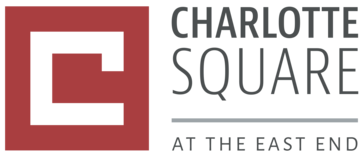 A Unique Urban Lifestyle- In Rochester's eclectic East End known for its unique blend of nightlife, dining options, and popular local hangouts. Charlotte Square is an easy stroll to the Little Theatre, Hart's Local Grocers, Downstairs Cabaret and Eastman School of Music.  A completely walkable and bike-able community, with all the benefits of city living.
All-Inclusive Rent with Unique Amenities- Charlotte Square gives a new meaning to move-in ready, and convenience.  Rent not only encompasses beautifully designed, spacious apartments, but also includes utilities, DirecTV, Greenlight fiber-optic Internet and one assigned parking space in the secure garage.   Various apartment sizes and layouts, private terraces, and luxurious finishes create beautifully exciting spaces.  A few apartments also feature soundproof practice rooms, designed with our city's amazing performing artists in mind.
Sense of Community and Engagement- Charlotte Square offers the ideal communal spaces for socialization and fun.  Our community terrace houses a fire pit, industrial grills and a TV so you can join your neighbors or host your guests for a unique lounging experience.  Stay healthy in the state of the CrossFit-inspired fitness center.  Celebrate a special occasion, or work on a presentation in the community room with a prep kitchen and media center.  Collaborate with other musicians in the common sound proof practice room, or play a game of ladder ball in the green space of the Pocket Park.
World Class Design and Construction- Future-focused and completely livable best describes Charlotte Square's design. This community boasts all-new construction specifically designed to be LEED and EnergyStar certified, complete with landscaped areas and plenty of green outdoor space.  Attention to detail, including secure bicycle storage, solar panels and a charging station for electric cars, ensure residents will continue to enjoy a safe, healthy environment, conducive to modern living for many years to come.
More Information on Charlotte Square
Community Leader:
April Lee-Horsey
Head Maintenance Superintendent:
Michael Richardson
Office Hours:
Monday:9:00AM to 5:00PM
Wednesday:9:00AM to 5:00PM
Thursday: 9:00AM to 6:00PM
Friday:9:00AM to 5:00PM
Saturday: 11:00AM to 3:00PM, by appointment
Phone:
(585) 232-1516
E-mail:
charlottesquareroc@homeleasing.net
Website:
www.charlottesquareROC.com
Instagram:
@charlottesquareROC